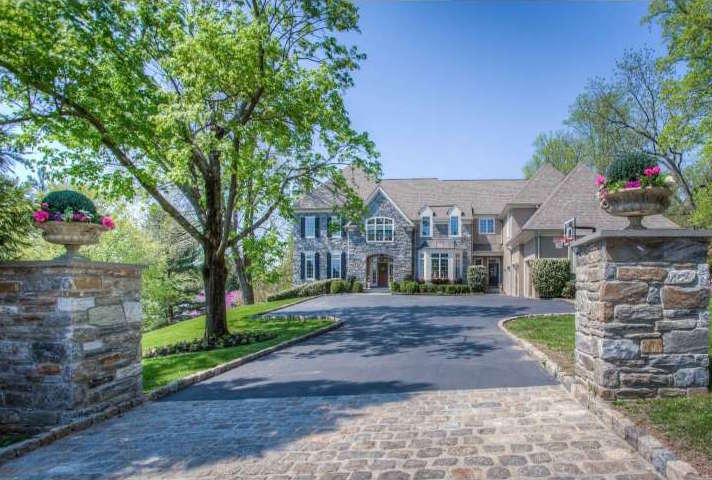 Radnor is a small community located between Villanova and Wayne along East Lancaster Avenue. Officially, Radnor is unincorporated and only designated by community traditions. As part of the Radnor Township, it is contiguous with other communities like Villanova, St. David's, Wayne and Ithan. These small towns all share a school district and municipal resources, although residents maintain a unique sense of identity depending on the neighborhood or community which they call home.

In other words, Radnor is as much a state of mind as it is an actual place. As part of the Main Line region, it enjoys a storied history, a stellar reputation and ample reasons for someone to call it "home."
Notable Locations in Radnor
Like most parts of the Main Line, Radnor was formed in the late 19th century as a collection of summer estates. The Philadelphia and Western Railroad constructed a series of railway stations to serve these clusters of communities, including one named after the Radnor Friends Meeting House.
Now, many of the former estates have been converted into higher learning campuses. Where the Woodcrest estate was located now sits Cabrini College. Eastern University calls the former site of Walmarthon Estate home. Other estate grounds were parceled up into different zoning districts, such as the Bolingbrook grounds (of which only the mansion itself remains).
The Radnor Train Station itself is another noteworthy site within the community. The station was lovingly restored in the early 2000s to maintain its brick facade and turn-of-the-century charms. Similarly, the Radnor Hotel has been a mainstay for fine lodging in the region since the 1950s when it was converted from part of the St. David's Golf Club.
Outside of its historical buildings, Radnor has ample supplies of natural beauty. The Radnor Memorial Park sits adjacent to the train station, and it provides facilities for recreational sports including an artificial turf field. Radnor's nature park is also located in this area, offering nature trails and scenic meadows perfect for picnics. Fenimore Woods is an excellent natural getaway in the middle of suburbia, boasting a playground, a pavilion, a walking track, restrooms and a three acre pond stocked with plenty of fish.
Living in Radnor
Children in the area are sent to schools within the Radnor Township School District. These schools include Radnor Elementary, Radnor Middle School and Radnor High School. Catholic residents from Radnor and areas beyond send their children to Archbishop John Carroll High School, which is an official member school of the Archdiocese of Philadelphia.
Residents often commute using Interstate 476 or Lancaster Avenue routes to commercial sites in Philadelphia, Conshohocken and other areas near the Main Line. They can also use the convenient SEPTA rail station located in the heart of town. Additionally, there are employers located within the actual Radnor area, such as QlikView, Main Line Health Laboratories and, of course, the local college campuses.
A third of the households in Radnor Township have children under the age of 18 and over half are married couples. Just under 50 percent of residents are between the ages of 18 and 44. According to an estimate from 2007, the median income for a single family was around $113,600 a year. The average listing price for a home in Radnor was $1 million as of June 3, 2015. The median sales price for homes closed between March and June 2015 was $674,000.
Families who want the perfect place to work or raise their children should look no further than the luxury homes in Radnor. Take a look at our Radnor luxury home listings to begin finding your new place among Pennsylvania's legendary Main Line communities.