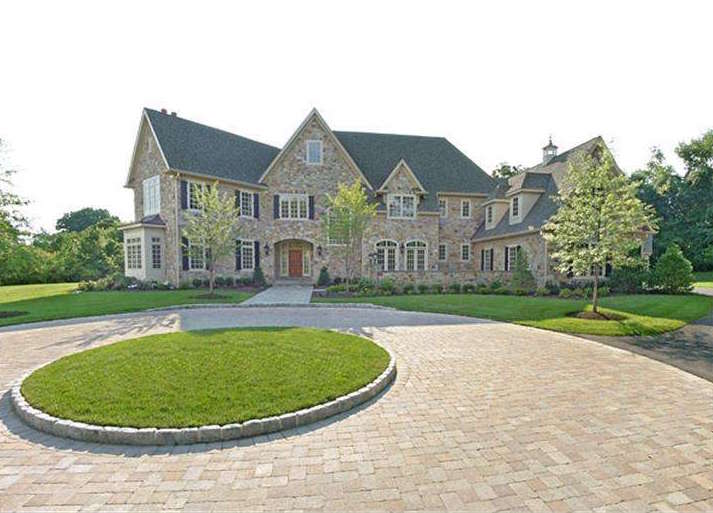 Blue Bell is a small community located north of Plymouth Meeting and Conshohocken across the Schuylkill River from the Main Line.While not technically part of the Main Line, Blue Bell shares the region's rich history as well as its trend of spirited local businesses and affluent residents. The community is also home to a number of prosperous enterprises whose activities stretch far beyond Pennsylvania's borders.

Overall, the community is well-loved for its convenient location, zoning within an excellent school district, collection of praised historical and modern business and its availability of high-quality luxury homes.
The Rich History of Blue Bell
Blue Bell has a different timeline than its Main Line counterparts. While it also occasionally served as a source for country estates, it remained mostly rural farmland until the suburban housing boom of post-World War II America. Regardless, many important buildings chronicle the area's past.
One of the oldest and the namesake of Blue Bell is the Blue Bell Inn. First opened in 1743, it has played host to famous patrons such as George Washington and Benjamin Franklin. An iconic blue bell was hung outside of the inn in 1796, changing the business from the "White Horse Inn" to the "Blue Bell Inn."
Until 1840, the surrounding community was named "Pigeontown" in honor of the huge flocks of passenger pigeons that would darken the skies before the extinction of their job. Afterwards, the citizens decided to rename the town in honor of the Inn instead.
Another historical landmark nearby is the Whitpain Public School building. First built in 1895, it marked a distinct transition for non-urban Pennsylvania communities away from one-room schoolhouses towards more modern facilities that could accommodate children from the surrounding area. The school building's unique style, trademark turret and gothic "Public School" lettering make it a hallmark of the area's history.
Modern Amenities in Blue Bell
While the town is certainly rooted in its past, it also embodies thoroughly modern sensibilities. An excellent example is the Blue Bell Inn itself, which boasts a gourmet menu with influences hailing all over the globe. Normandy Farms is a similar institution, which hosts events in its circa 1730 farmhouse and serves up dishes from French charcuterie to classic Atlantic coast crab cakes either in its restaurant or at a gorgeously-appointed wedding ceremony held in their conference center.
Next door to Normandy Farm is the Blue Bell Country Club. With an Arnold Palmer-designed signature golf course and a 35,000 sq. foot clubhouse, the facilities are a staple in the routines of Blue Bell residents and anyone in the surrounding area.
Shopping can be found at the Plymouth Meeting Mall nearby or the upscale King of Prussia Mall located just 10 miles away.
Living in Blue Bell
Commuting from Blue Bell is easy thanks to the nearby I-76 route just across the river. You could also park at the Conshohocken or Spring Mill SEPTA station and ride the convenient light rail system into the heart of the city. Many Blue Bell residents do not even have to commute far at all since major businesses like Unisys, Aetna and UniTek have large corporate offices in the town.
The Wissahickon School District carries on the legacy of the Whitpain Public School with its high-performing test scores, stellar athletic programs and active community spirit that caused it to be ranked among Newsweek's top schools in the country in 2008. A great middle school and the much-loved Blue Bell Elementary School provide equally commendable educations for children of any age.
Luxury homes in Blue Bell can range from renovated circa 1900 farmhouses to completely-new mansions, all with incredible amenities, gorgeous architecture and wooded lots showing Pennsylvania's finest foliage and local wildlife.
To find a Blue Bell luxury home to call your own and become a part of this warm, historically-immersed community, visit our Blue Bell luxury home listings.